Irena Tomažin
The Taste of Silence Always Resonates
performance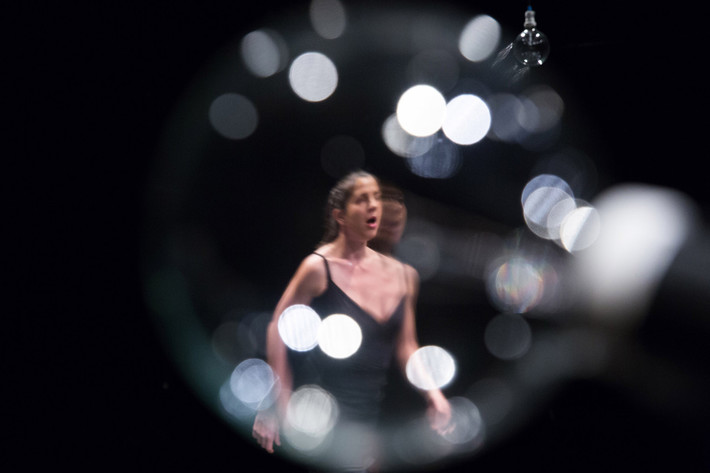 In her newest project Irena Tomažin once again uses the medium of voice and body as her tool(s) to tackle the themes of tradition, heritage and the status of voice(s) and images, which voice as a medium of oral tradition is carrying on, from one generation to the next.
"In a way, we belong more to the past and to the tradition that - at first glance - seems to have faded away already; it also seems that we don't belong to the present as much, the present that is supposed to be "the here and now." But maybe the oral tradition that seems to have faded away with time, is only a display of its quiet, unobtrusive and ever-continuing presence. The voices, with which we speak, are the melodies of past orators. The present on the other hand – with its ubiquitous sounds – inscribes itself onto a body as a set of very different voices, with which we delineate the voices that are only to become (our) future oral traditions. Maybe this paradoxical time-loop can sometimes be caught in the duration of the voice within a single exhalation."
Concept and performance: Irena Tomažin
Dramaturgy: Barbara Korun
Sound: Aldo Ivančič
Light design and technical support: Igor Remeta
Costumes: Tina Pavlović
Video: Sabina Đogić
Sound design: Andrej Kocan, Jure Vlahovič
Performing in the video: Boštjan Narat, Bogdana Herman, Ljoba Jenče, Svetlana Spajić, Natalka Polovynka
Executive producer: Barbara Hribar
Produced by: Emanat
Co-produced by: Cankarjev dom, Maska
Financially supported by: Ministry of Education Science, Culture and Sport RS, City Municipality of Ljubljana
Financially supported by: European Cultural Foundation (in the frame of Co-viocings project)
http://emanat.si/en/production/irena-tomazin--taste/
Irena Tomažin, dancer, performer, vocalist in post-graduate student of philosophy.
Irena Tomažin (1979) was born in Ljubljana, Slovenia. She graduated at the University of Ljubljana – Department of Philosophy. She was actively involved in the art of dance and theater since secondary school when she was a member of the theater group IHT. Further dance-theatre and voice education she gathered in programs such as EN-KNAP Laboratory; the educational program Agon of EMANAT; the Performing Arts seminars of Maska Ljubljana, as well as in many workshops and seminars in Slovenia and abroad.
In 2004 she received the danceWEB Scholarship for Contemporary Dance (ImPulzTanz Festival Vienna, AT) and was selected in 2007 as a trainee at the Grotowski Institute (Wroclaw, PL). In 2001 she made her dance debut Hitchcock's Metamorphoses together with conductor Mitja Reichenberg and in 2005 her second solo Caprice, which focused on the voice. After this solo she started to work more intensively on the voice.
In 2006 she made a re-work of Caprice for City of Women Festival (Ljubljana, SI), entitled Caprice (re)lapsed. Soon after followed the projects at home and abroad, she received many awards. Irena Tomažin holds regular voice workshops in Ljubljana and abroad.