Alexander Gerner, Marie Nerland, Lígia Soares
Notes on utopia
interactive performance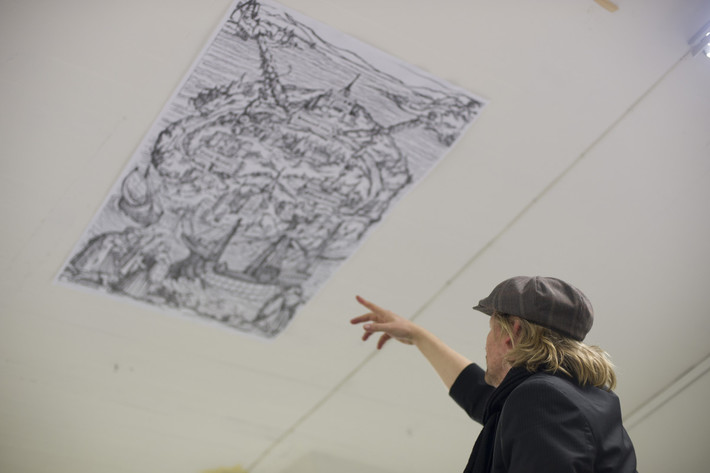 Notes on Utopia is a performance which builds a situation for reflecting on contemporary utopia, on public space, and on utopian thoughts in art and life. Passing from climbing stairs, to looking at the ceiling, or meeting the audience seated at a table, this performance approaches utopia through various modes of dealing with imaginary spaces and times.
The presentation of the performance in Maribor is funded by Arts Council Norway. Notes on Utopia was made with support from Bergen Center for Electronic Art, Arts Council Norway, and City of Bergen. Alexander Gerner's (CFCUL) research is supported by a FCT grant SFRH/BPD/90360/2012.
Alexander Gerner is a German playwright, theatre director, and researcher in Philosophy of Cognitive Sciences, based in Lisbon. He is a member of the Centre for Philosophy of Science at the University of Lisbon (CFCUL) and holds a PhD on Philosophical Investigations of Attention (2012). At the moment he is head of the CFCUL thematic research line Philosophy of Human Technologies and a Post-Doc Researcher at the CFCUL on the topic of Philosophy of Cognitive Enhancement http://cognitiveenhancement.weebly.com/ with an FCT research grant. He investigates how technologies constitute, magnify, amplify human experiences, but can also enslave or put human experience and life at risk.
Marie Nerland is an artist and curator based in Bergen, Norway. She holds a master in theatre studies from the University of Bergen and in creative curatorial practice from the Bergen Academy of Art and Design. She has been working with performance since 1999 in different collaborative projects. She was co-editor of the performing arts magazine 3t (1997-2007) and the Norwegian Art Yearbook (Pax Forlag, 2010-2014). In 2008, she founded Volt, a curatorial project for contemporary art, based in Bergen.
Lígia P. Soares is a Portuguese choreographer and playwright working in the field of performative arts. She started her work in 1997 with Companhia de Teatro Sensurround in Lisbon. Since 2001 she has independently or in collaboration created more than 20 pieces. Her work has been developed and presented both nationally and internationally.